| | |
| --- | --- |
| Velocolutions.com | Aftermarket parts for Cessna Cardinals |
NOTICE: These parts are not PMA'd! You and your IA will need to decide whether these
meet the requirements of owner-produced parts for installation on your airplane.
Injection-molded plastic Aft Bulkheads are available from Plane Plastics. ($366 with shipping on the date that I checked.)
If you're interested in something a little more robust, however, I have Aft Bulkheads (replaces Cessna part number 1715053-1 in my book) for Fixed Gear Cardinals. These bulkhead assemblies are made from 1/16" thick, "aircraft grade" 6061-T6 aluminum alloy which is then powder coated.* As usual, click any picture to enlarge.
All attaching hardware is made from 18-8 stainless steel (except the e-clip retaining rings which have a zinc chromate finish). The assembly is mounted to the aircraft via three 1/4" bolts and isolated from the airframe via neoprene washers and foam tape to mitigate vibration.
These bulkhead assemblies are shipped as a kit and can be assembled with simple tools in about 90 minutes. If you'd like to check out the assembly instructions before purchase, click here.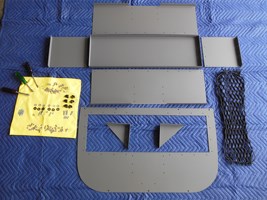 If you'd prefer to rivet the assembly together, I will ship the kit with rivets instead of nuts and bolts at no extra cost. With the proper tools, this makes assembly much faster and reduces the number of bolts that could potentially become loose with engine-induced vibration. Please specify this option when ordering. Here's a picture of how the rivets look from the outside.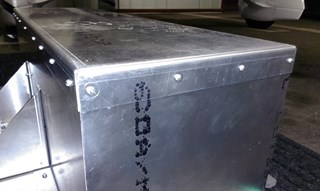 The aluminum bulkhead assembly weighs ~9.8 pounds and resides at station 175 (according to my POH). Since Cardinals tend to be nose-heavy, especially with full-sized adults in the front, I normally fly with a case of water in the baggage compartment to assist with balance anyway so a little additional weight back here shouldn't hurt. Please do your own calculations however!
Here are a few pictures of the assembly viewed from the empennage. The picture on the left shows the bulkhead installed. The other pics show clearance between the edges of the hatshelf and the airframe. It's a little more than 3" at all points.
This picture is taken from the inside of the hatshelf (with the back removed) looking outboard to show the clearance between the back of the shelf and the closest stringer. It's a little more than 2.5".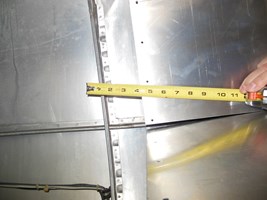 If you'd rather paint or powder coat your own, I have a few bare aluminum sets available.
A note about crashworthiness: None of these parts have been tested for crashworthiness and I make no guarantees in the event of an off-airport landing. However, if you consider what you're removing - in my case 30-year old sun-damaged plastic with 30-year old heat-cycled hook-and-loop tape - I'll bet that this solution is much more secure. If three 1/4" bolts aren't enough for you, there are a total of seven holes drilled in the bulkhead which can all be filled with your choice of hardware if you have corresponding holes in your airframe.
To give you an idea of the strength of this assembly, here's a 250lb man standing on the back of the hatshelf.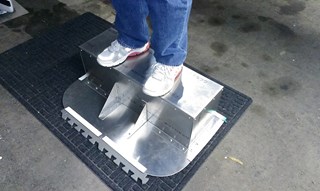 Don't try this with your plastic bulkhead!
Here are two pictures of this bulkhead installed in a customer airplane. This owner decided to buy the unpainted unit and powdercoat it himself in white to match his interior.
And finally: If this project appeals to you but you have an RG, please let me know. If I get a large enough response, I'll take the time to capture those dimensions and make a batch. I believe the only thing that needs to change is the bulkhead itself - the hat shelf should be common.
Price: $450.00 (Includes shipping within the continental United States. For orders outside CONUS, please contact me ahead of time so we can figure it out together.)
Return policy: If returned unmodified within 180 days from your order, I will refund 100% of your purchase price. If you want to return the parts after 180 days, please contact me.
How to pay: PayPal (username "mjparry@verizon.net") or check payable to: Matt Parry, 531 Geranium Pl, Oxnard, CA 93036
* Funny coincidence, the manufacturer of the powder coating material used in this application is Cardinal Paint.
The bulkhead assemblies are made and powder coated in the USA.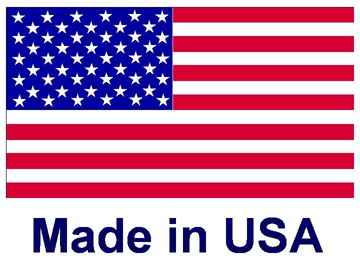 (Fasteners and the net may be made in China - sorry.)